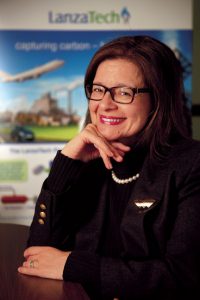 Dr. Jennifer Holmgren
"Biocatalysts to Widen the Feedstock Pool"

CEO, LanzaTech
Dr. Jennifer Holmgren is CEO of revolutionary carbon recycling company, LanzaTech. Prior to LanzaTech, Jennifer was VP and General Manager of the Renewable Energy and Chemicals business unit at UOP LLC, a Honeywell Company. Under her management, UOP technology became instrumental in producing nearly all of the initial fuels used by commercial airlines and the military for testing and certification of alternative aviation fuel. Today, under Jennifer's guidance, LanzaTech is working towards deploying carbon capture and reuse facilities globally to make fuels and chemicals from waste carbon.  In 2015, Jennifer and her team at LanzaTech were awarded the U.S. Environmental Protection Agency Presidential Green Chemistry Award and she received the BIO Rosalind Franklin Award for Leadership in Industrial Biotechnology and the Outstanding Leader Award in Corporate Social Innovation from the YWCA Metropolitan Chicago.  She was named most influential leader in the Bioeconomy by Biofuels Digest in 2017 and received the Digest Global Bioenergy Leadership Award in 2018 and the 2020 William C. Holmberg Award for Lifetime Achievement in the Advanced Bioeconomy by the Digest, the most widely read online bioeconomy journal. In 2021 Jennifer received the Edison Achievement Award for making a significant and lasting contribution to the world of innovation. She is also on the Advisory Council for the Andlinger Center for Energy and the Environment at Princeton University. A member of the National Academy of Engineering, a dog lover and committed greyhound rescuer, Jennifer holds a B.Sc. degree from Harvey Mudd College, a Ph.D. from the University of Illinois at Urbana-Champaign and an MBA from the University of Chicago.  Jennifer is also the Director and Chair of the LanzaJet Board of Directors.  LanzaJet, Inc., is a new company that will produce sustainable aviation fuel (SAF) for a sector requiring climate friendly fuel options.
Selected talks:
TEDx Chicago
https://www.ted.com/talks/jennifer_holmgren_saving_our_planet_by_recycling_co2
ARPA-E Summit
https://www.youtube.com/watch?v=rXehzmFVdFA
Becoming Carbon Smart: Energy Disruptors
https://www.youtube.com/watch?v=AF6Kcvof4ts
Selected Interviews:
CNBC Make it Series
https://www.cnbc.com/2018/09/10/lanzatech-ceo-being-an-introvert-is-good-for-business.html
TechCrunch
https://techcrunch.com/2020/09/15/lanzatech-eyes-two-more-spinoff-companies/