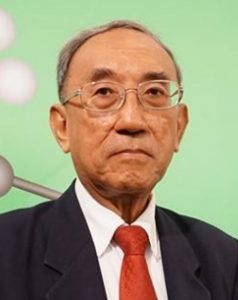 Prof. Piyasan Praserthdam
"Effect of Hydrogen Spillover on Acidic Properties of Silica-supported Tungsten oxide Catalysts: In situ DRIFTS study"

Department of Chemical Engineering, Chulalongkorn University
Education
Ing. in Chemical Engineering, I.N.S.A. Toulouse, France, 1979
M.S. in Chemical Engineering, Polytechnic Institute of New York, U.S.A., 1976
B.Eng. in Chemical Engineering, Chulalongkorn University, Bangkok, Thailand.
Research Groups
Center of Excellence on Catalysis and Catalytic Reaction Engineering
Research Interest
Metal catalyst
Environmental catalysts
Catalyst for polymerization reaction
Nano-crystal synthesis
Professional Activities
Member of The Thai Institute of Chemical Engineering and Applied Chemistry.
Member of The Chemical Engineering Section, the Engineering Institute of Thailand.
Catalyst consultation for two Thai petrochemical company.
Patent
Patent No. 5,849,662, December 15,1998 "Catalyst Comprising of element from group 1 and V111B activated by oxygen or oxygen containing Compound".
International Publications   442 papers
H-index                42
Citations:             5771      
Research Experience 
Cooperative research with company supported approximate budget: $15 million