Program
TOCAT9 will be a HYBRID conference.
The meeting will consist of a five-day, onsite as well as virtual, conference.
For the onsite sessions in Fukuoka, Fukuoka International Congress Center, the program will run from 09:00 local time. Please refer to the Scientific Program.
For the online sessions, consult your local time zone (GMT+) here.
For more information about oral/poster presentation, please click here.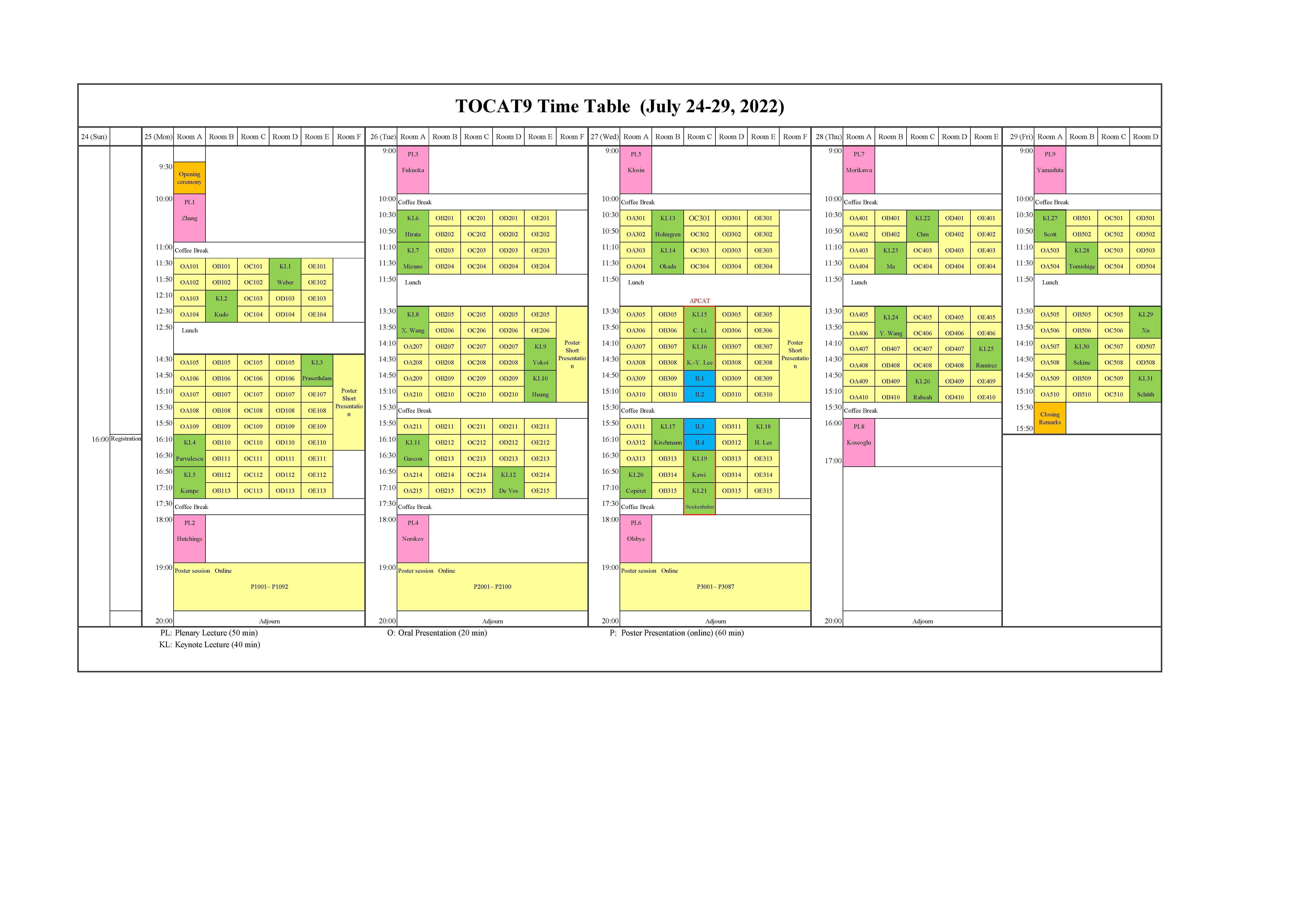 7/24 Registration only
7/25 9:30 Opening ceremony, 10:00 PL1 Prof. Tao Zhang, 18:00 PL2 Prof. Graham J. Hutchings
7/26 9:00 PL3 Prof. Atsushi Fukuoka, 18:00 PL4 Prof. Jens K. Nørskov
7/27 9:00 PL5 Dr. Jerzy Klosin, 18:00 PL6 Prof. Unni Olsbye
7/28 9:00 PL7 Dr. Takeshi Morikawa, 16:00 PL8 Dr. Omer Refa Koseoglu
7/29 9:00 PL9 Prof. Hiromi Yamashita, 15:30 Closing Remarks
Poster presentation (online live) 7/25 19:00-20:00, 7/26 19:00-20:00, 7/27 19:00-20:00
Luncheon seminar (Room A) 7/27(Wed) JEOL Ltd., 7/28(Thu) -> 7/26 (Tue) Avantium, Daiichi Jitsugyo Co.,Ltd.
No banquet is scheduled.
Plenary lecture
Keynote lecture