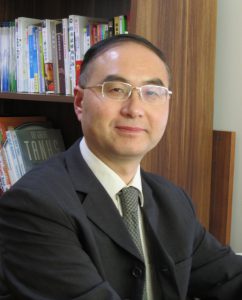 Prof. Ye Wang
"Controlling Reaction Routes and Product Selectivity in C1 Chemistry"

College of Chemistry and Chemical Engineering, Xiamen University
Professor Ye Wang obtained his Ph.D. degree in 1996 from Tokyo Institute of Technology. He worked at Tokyo Institute of Technology, Tohoku University and Hiroshima University during 1996-2000 and was promoted to Associate Professor at Hiroshima University in 2001. He became a full Professor of Xiamen University in the August of 2001 and is currently the director of State Key Laboratory of Physical Chemistry of Solid Surfaces. He serves as Associate Editor of ACS Catalysis and Council Member of International Association of Catalysis Societies (IACS). He is member of Editorial Advisory Board for many journals such as Applied Catalysis A: General, Journal of Energy Chemistry, Green Energy and Environment, Science China Chemistry and Chinese Journal of Catalysis. Professor Wang has published more than 240 papers. The research interest of Professor Wang's group is Catalysis (including Heterogeneous Catalysis, Photocatalysis and Electrocatalysis) for C1 and Sustainable Chemistry.